The Stolypin Land Reform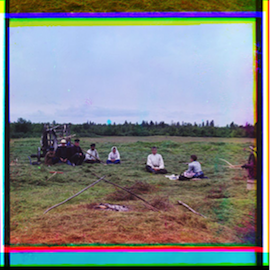 Russian Peasants, an early colour photograph, c. 1910
The dismantling of the village commune - the organizing kernel of the revolution on the land - was the most important of Stolypin's reforms. It was linked to the creation of a new class of peasant landowners, who, he hoped, by owning property, would feel they had a stake in the system. As these farmers became wealthier, they would learn to respect the squires' estates and give up their revolutionary claims to them.
Stolypin called it a 'wager on the strong'. Lenin admitted that if the gamble worked, the agrarian structure would become 'bourgeois' and the revolution would be undermined.
By a Law of 9 November 1906, the head of a peasant family was given the right to convert his communal strips of arable into private property on fully enclosed farms outside the village (khutora) or consolidated holdings within it (otruba).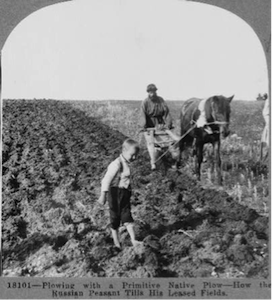 Peasant Farming
Further legislation followed to speed up the separations through agronomic measures and to help the separators purchase additional land from the gentry with low-interest credit from the Peasant Land Bank. The state puts its full weight behind the reforms, sending thousands of officials to the countryside. Stolypin said the dismantling of the commune would be a slow process stretching over two decades.
Increasingly the communes resisted the separators, often using force or intimidation to put them off. Overall, the land reforms must be deemed a failure. Between 1906 and 1917 about 15% of all the peasant households in European Russia consolidated their land as private plots, bringing the total of peasant farms in hereditary tenure to around 30%. Yet for every household that enclosed its land there was another that had tried and failed, either because of communal resistance or bureaucratic delays, with the result that they lost interest.