Cominformity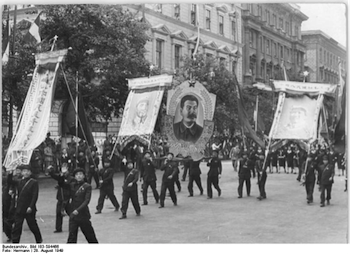 Chinese delegation to Budapest, 1949
EXTRACT FOR SUBSCRIBERS ONLY. Orlando Figes, Revolutionary Russia, 1891-1991 (Pelican, 2014), pp. 332-35.
Cominform (the Communist Information Bureau) was the Soviet response to the Marshall Plan. Established in September 1947, its aim was to facilitate direct Soviet control over the Communist parties and, through them, interference in the politics of the East European satellites by coordinating policies. Its foundation was a turning-point in the Kremlin's plans for the Sovietization of the Eastern bloc... [FULL TEXT 920 WORDS]
Watch this short but memorable film clip of Stalin's 70th birthday celebrations at the Bolshoi Theatre in Moscow. Mao and Khrushchev are with Stalin.