Hungary 1956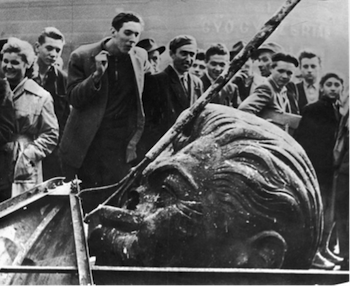 Budapest, 1956
Khrushchev's speech had an immediate in Poland. In Poznan workers seized on it to challenge the command economy in strikes and protests. Troops dispersed the crowds, killing 57 and wounding several hundred people, but the Communists were forced to make concessions too by appointing a new leader Wladyslaw Gomulka, who had been accused of 'nationalist tendencies' during Moscow's struggle with the 'Titoists'. Reassuring Moscow that Poland would remain in the Soviet bloc, Gomulka began a series of internal political reforms and talked about a 'Polish road to socialism'.
News of the Polish concessions encouraged the Hungarians. During late October, huge crowds assembled in Budapest. A 9-metre statue of Stalin was toppled. Protestors fought with the police. There was unrest in other towns. The Hungarian leadership called for Soviet troops. Tanks entered Budapest where they were resisted by civilians who organized militias, erected barricades and threw home-made bottle bombs ('Molotov cocktails').
The Communist reformist Imre Nagy took control of the situation, managing to bring a halt to the fighting by declaring a new national government committed to negotiating a withdrawal of Soviet troops from Hungary. On 1 November he announced Hungary's exit from the Warsaw Pact.
It was this announcement that made up Khrushchev's mind to intervene again. There was a real danger of Hungary becoming a neutral state with a multi-party parliamentary democracy. On 4 November Soviet tanks rolled in again. In the week it took the Soviet military to crush the uprising 2,500 civilians were killed and 20,000 wounded. Denounced by Moscow as a 'counter-revolutionary', Nagy was arrested, and later executed 'as a lesson to all the other leaders in socialist countries'.
Distracted by the Suez Crisis, the West's reaction was subdued. But the Soviet action brought about a crisis in the movement internationally with many Communists resigning from the party in protest.